How to write a perfect blog is a question that leap to your mind.
Blogs are great for distributing information on a certain topic. The majority of blogs take the style of a simple write-up. They can include a variety of media forms, including as images, videos, and infographics. In the beginning, blogs were being written as comprehensive journals.
But now, businesses also write blogs to promote their products and services by providing relevant information to the consumers.
Even if you are just an individual, you can earn money by writing blogs. Your blogs should provide value to your readers, and if they find it worthwhile, you can make money in a variety of ways, such as by introducing a subscription model or engaging in an affiliate program.
But for that, you need to rank on the SERP (Search Engine Results Page) so that users can discover the content you are offering. Not everyone creates a blog for monetary purposes.
They may be to give access to knowledge materials that otherwise would be difficult to find. People still assume that fooling the Google algorithm is not a big deal.
But Google has evolved over the years tremendously and capable enough to fight spam and other Black Hat techniques.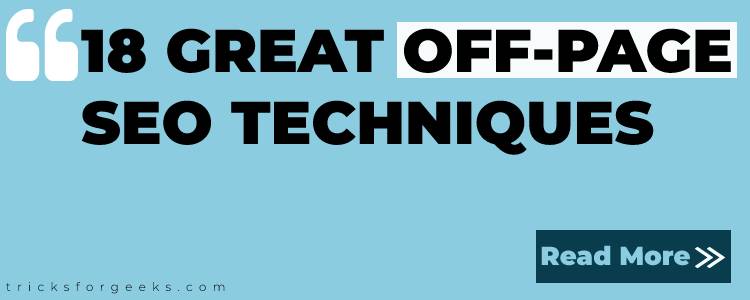 The Black Hat techniques might help in the short-run however, the long-term damage is much significant. In this blog post, we will outline a few important points which will be helpful to all including beginners who have been finding it difficult to write a blog while adhering to quality standards
Avoid Scraped Content
People are under the assumption that copying content from another site and then combining it with some modification, will get them more traffic and a higher ranking. Googlebot (also known as spider, robot) has a complex algorithm to spot the ones providing no value to the user. Apart from that, it could also result in legal issues on the grounds of copyright infringement. Providing unique content to the user could benefit your search rankings and increased readership.
Mischievous Redirects
Readers frequently complain about landing on pages that redirect them to another page that isn't supposed to be the one they were looking at. To simplify, a website providing gaming tips and then has a link placed saying they can read tips for another game. But in reality, it's a redirect to a site providing cosmetic product tips. This is often done to pass on traffic to another website. Every user will be frustrated, except for those who may be interested in the redirected site by chance. However, it is still a deceptive practice that may result in a Google penalty.
Keyword Stuffing
As the name suggests, the term refers to the inclusion of keywords that may be in form of a list or an outline. This is done to trick the search engine algorithm to rank higher on the high-volume keywords.
For example, 'Buy the best toys online in India. This is a good quality toys store. We offer low price toys. Contact us for details on toys.'
You can see how the word 'toys' is repeated frequently although it is not providing any meaningful value. The user experience is hence spoiled and affects your ranking too.
Prevent Comment Spam
Blogs often provide users with an option to express their view on a particular topic or something relevant through comment boxes. However, often it is misused to spread automated spam or user-generated links having no relevance to the context of the blog. Even though the website might be providing valuable content to its users, the presence of spam on-page could affect the site's ranking negatively. It's not to say that comment option shouldn't be provided as it does invite a meaningful discussion. But you have to ensure that, it casts no negative impression on your readers. You can remove comments manually that are obvious spam and use moderation tools to publish comments only after they are reviewed. But if you fail to manage time, you can use free tools such as the reCAPTCHA service or require an email ID to allow real-time users to comment.
Create Online Presence
On the internet, you can find almost everything you need and the subject matter of your blog could be no exception. You should engage yourself on other similar blogs by participating in the discussion. The ultimate aim should be providing valuable information that would prompt users to visit your site. There are various platforms and forums where you can share your thoughts through meaningful discussions.
We've listed just a few out of the many other essential points that one needs to keep in mind while writing a blog. We might come up with another post in the future for better guidance.
Hope this article will help you to to write a perfect blog with the accurate SEO guideline.
Spread the word! ?
Check Out: WEBSITE SEO CHECKER LISTS TO DO A PERFECT SEO ANALYSIS QUICKLY [UPDATED LISTS]